After a little bit of an absence, I've decided to spend a lovely day off post blasting, and catching up on what I've neglected to do over the past few weeks. I haven't posted in a little while because I was waiting for my nails to gain a bit more length after the tragedy of breaking all of them in the space of about three days and I've been very busy, finishing my second year of university and beginning my transformation into a skinny mini, I hope. Anyway, to kick off my day of posting I'm starting with beautiful bluey shades that I'm particularly fond of at the moment. For this post I have selected four very different polishes, in both finish and brand, but they are equally favoured by me.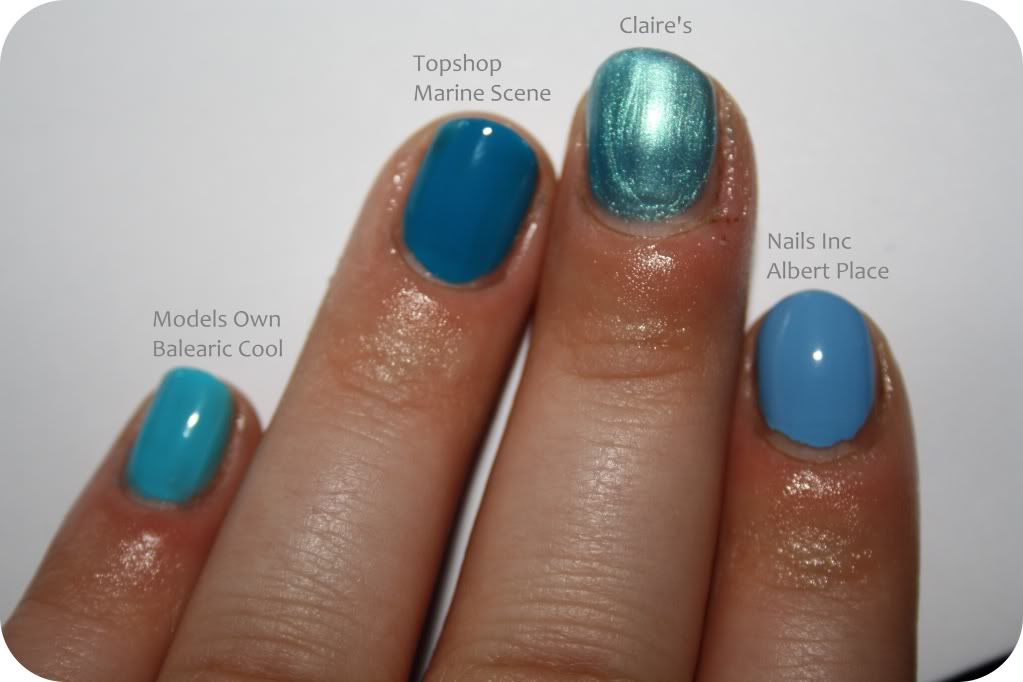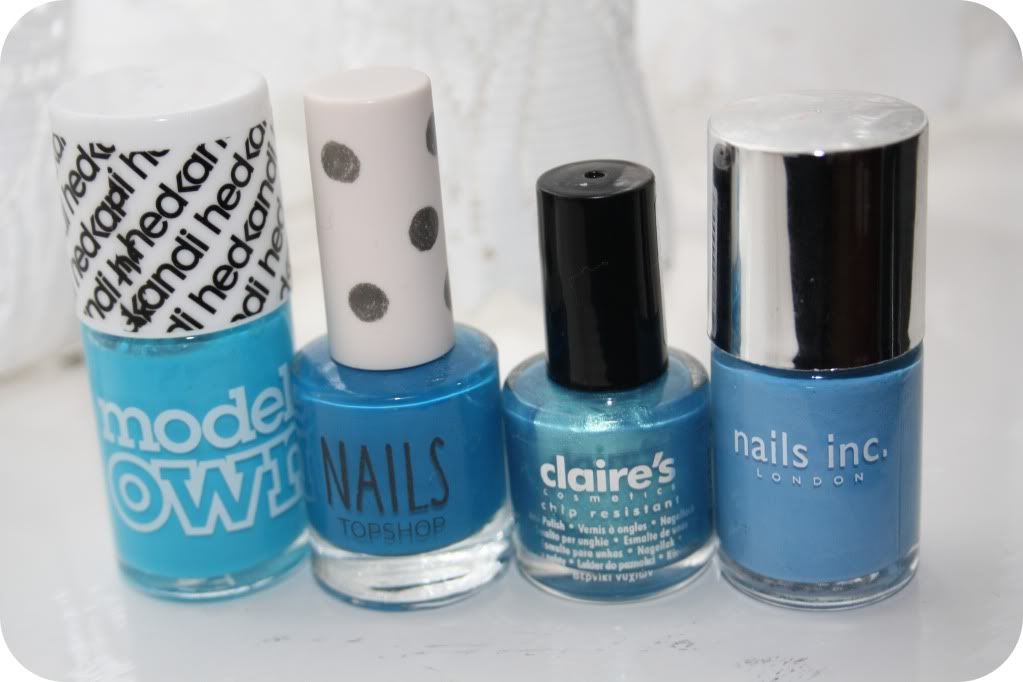 The first of the bunch being the Models Own Balearic Cool, from the HedKandi collection, it's a super yummy nearly neon bright blue which paints fairly well.
It's a gorgeous summery colour great for sunny days or miserable, cloudy days where you want to feel a little bit brighter. I really do like this shade, the only complaint I can find with it is it's consistency. This particular polish, to me, seems a little bit thinner than what I have grown to expect from this brand, meaning that it does require a few more coats to cover up bald spots, and being as impatient as I am, I tend to favour one coat polishes, I just don't have the time or patience to wait of multiple coats to dry. However, like I said before the hue is lovely, really bright and eye catching too, so when I have the time to spend on a proper mani I always choose this polish.
The second polish of the four, is a lovely deep blue Marine Scene by Topshop. I love this polish for so many reasons, it's a gorgeous rich shade, super pigmented, which paints on beautifully and it's a one coat polish! I generally love Topshop's range of polishes anyway, even though sometimes I feel they can be a touch too thin with not enough pigment, but with this one I don't think you can go wrong. It's £5 from Topshop, as the standard shades often are, and as far as I'm concerned it's £5 well spent, a quick dryer that really stands out, not too bubblegummy blue, the darker shade has a little bit more of an edge and looks great with black tips for an alternative French mani.
Number three of my beautiful blues is a polish by Claire's, unfortunately, the polish I have is missing a name, now I don't know if this is a fault with my bottle or it just doesn't have a name. It's a very sheer polish with really tiny blue glitter flecks in it making it almost pearlescent, it's nice for a subtle glitter mani that isn't too over the top. It's also ideal over more vibrant blues to soften the harshness that comes with certain brighter tones. When I bought it the price was £2.25, so it's an absolute bargain, a really expensive looking hue but for less, leaving more money to buy more polishes, and that's what we like!
Last but certainly not least is a pale blue from Nails Inc called Albert Place. It's a very cute pastel blue, and surprisingly, with this shade you can get away with one coat. I really love the subtlety of this polish, I think it makes a really lovely base for leopard print or zebra nails, giving the designs a little bit more pop that a brown or white base. Now normally with a Nails Inc polish you'd be looking at spending around £11 per bottle, but I got this shade in a set of three from TKMAXX for £11.99, which is an absolute wonder, so I would probably recommend having a look in those types of designer brands discount prices shops, just to see if you can find a little gem like I did!
Four very different blues but all equally yummy! All recommended by me!
What are your favourite blues? Xxx.